Edwardian House and Shop For Filming
Edwardian film location cottage with authentic Edwardian period interior, including a grocer's shop and antique furniture throughout. Features include cast iron ranges and fireplaces, original tiled and wooden floors, gas lights and antique sanitary ware.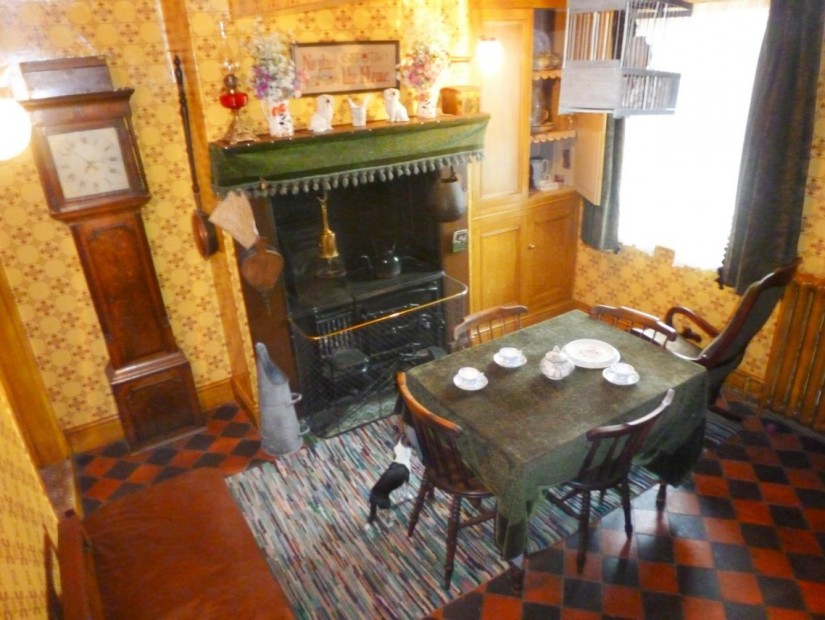 Categories:
Interior
The perfect film location for period shoots, each room has authentic furniture, fixings and decor, including antique gas lights, throughout and includes:

Entrance hall (4.5ft by 4ft) comprising woodgrained wooden paneling, Victorian geometric floor tiles and authentic Edwardian-style varnished tile design wallpaper.  
Parlour/drawing room (16ft by 12.5ft) comprising of working original tiled and marbelised slate fireplace, stained wooden floor, antique rugs and curtains, and Edwardian chairs and sofa with original covering. Also includes Authentic Victorian wallpaper c. 1900 to walls, gas lamps, and antique mahogany sideboard and display cabinet.
Kitchen/living room (12.5ft by 12.5ft) comprising of antique cast iron range with working open fire and black and red quarry tiled floor, alcove cupboard with antique kitchenware and tableware, and dresser with antique dinner service. Key features include rag rugs, a scrub top kitchen table and varnished tile-design wallpaper c. 1910 replicated from sample found in the room. 
Pantry/larder (7ft by 4ft) comprising of shelves with antique food tins, packaging, storage tins and kitchen gadgets, and a stone cold slab for for cheeses and milk etc. Painted white washed walls based on early 20th century colour scheme.
Shop (13ft by 10ft) comprising antique shop counter with glass display, shelves and spice drawers, small cast iron stove and a window display area with sliding doors. A full range of antique and replica food tins, packets and boxes c. 1910-1920 is on display along with advertising showcards and enamel signs. Key features include antique National cash till, an Edwardian cheese cutter, syrup dispenser and advertising dairy stand.
Master bedroom (16ft by 12.5ft) comprising of original tiled and marbelised slate fireplace, wooden floor with rag rugs and authentic Edwardian/early 1920s floral wallpaper and linoleum flooring with 1900 floral pattern typical of bedrooms of the period. Furniture includes matching Edwardian washstand and dressing chest with authentic washing and grooming paraphernalia, and a brass and iron bed with antique cover.
Children's bedroom/nursery (12.5ft by 12.5ft) comprising of small cast iron fireplace, brown linoleum flooring and floral wallpaper c.1910 replicated from sample found in the room. Key features include Victorian woodgrained bedroom suite and Edwardian toys.
Single bedroom (10ft by 9ft) comprising small cast iron fireplace, painted wooden floor and blue painted walls and cream woodwork based on original Edwardian colour scheme. Features include single iron bed, washing chest with male grooming paraphernalia and linoleum flooring with c.1900 geometric design.
Bathroom (12ft by 7ft) comprising of small cast iron fireplace and antique sanitary ware c.1900-1920, including high cistern toilet and cast-iron roll top bath. The linoleum flooring is of a tile design copied from  c.1900 design. Walls painted a gloss white paint typical of bathrooms of the period.

Although relatively compact, this period film location is still capable of delivering excellent results to filmmakers wanting to shoot short films, music videos, editorial and interviews, or stills photoshoots.
Bedroom Types
Child's Bedroom
Double Bedroom
Nursery
Single Bedroom
Facilities
Domestic Power
Mains Water
Toilets
Floors
Linoleum
Real Wood Floor
Tiled Floor
Interior Features
Furnished
Period Fireplace
Kitchen Facilities
Cutlery and Crockery
Large Dining Table
Pots and Pans
Range Cooker
Utensils
Kitchen types
Cream & White Units
Galley Kitchen
Rustic Kitchens
Rooms
Drawing Room
Hallway
Porch
Retail/Pop-Up Space
Study
Walls & Windows
Painted Walls
Paneled Walls
Wallpapered Walls
Exterior
The cottage is in the heart of a conservation area and is surrounded by stoned walls and street gas lamps which could easily pass for an authentic period street.
The road is a quiet cul-de-sac and the house is at the top of a hill.
The front garden is cottage-style flower garden with a Victorian blue paved path and rope edging.
The house has authentic green sash windows and a cottage-style panelled Victorian front and back doors. The back garden comprises of a Victorian blue paved path, a wash area with mangle and dolly tub, and vegetable and herb gardens.
Access to the period shop is from the rear and the side of the house features a large shop window displaying a recreation of Edwardian groceries for sale, including original advertising signs, dummy food displays and replica hanging foods.
A restored outside privy with with soil toilet is in a nearby area shared with neighbours.
Exterior Features
Back Garden
Front Garden
Walled Garden
Parking
Driveway
On Street Parking
Parking Nearby