Glasgow: Former Factory Film Location
Former factory space in the East End of Glasgow. The property offers five floors of character backdrops providing affordable spaces for studio, events and exhibitions.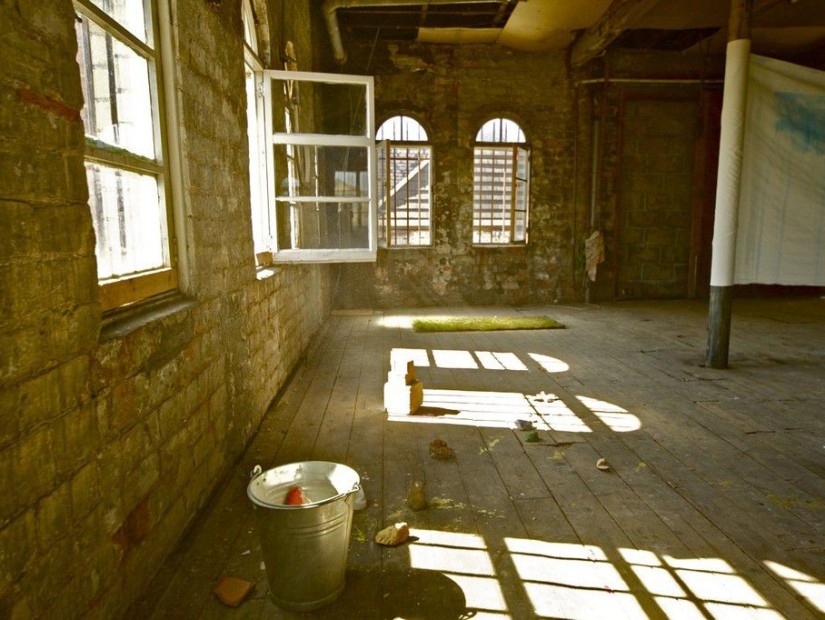 Categories:
Interior
The interior is spread out over five floors, three of which are occupied by our studio artists. The 2 available spaces are both our ground floor space and third floor space which both have differing qualities.

The ground floor has larger windows, some of which are boarded-up and others which have glass bricks. The rafters on this level are exposed alongside the original lift (currently defunct) which sits on this level. It receives less natural light than the third floor.

The third floor features largely exposed brick with the ground floor a mixture of exposed and plastered surfaces. Both have the original wooden floorboard floors and detailed iron supporting columns.
Facilities
Domestic Power
Internet Access
Mains Water
Toilets
Interior Features
Industrial Backdrops
Steel Pillars
Kitchen Facilities
Pots and Pans
Small Appliances
Utensils
Walls & Windows
Bay Window
Blacked Out
Exposed Beams
Exposed Brick Walls
Industrial Windows
Painted Walls
Skylights
Exterior
The former Italian Renaissance inspired factory features the most intricate and ornate use of brick to be found in the city. Built in late 1800s and by 1890 the former factory was producing up to 14,000 clay products per day. The building comprises a complex sequence of three ornate red and white brick buildings, which were originally linked by an equally ornate two storey building filling the site between the three buildings (which was the main entrance and housed the kilns).

Openings are mostly round-headed and recessed in shallow panels with inset pilasters, pilasters also divide bays. The building consists of 4 storeys with a tall attic, each block symmetrical and with a 2-storey oriel corbelled above ground floor. The centre gable design is of Low Countries derivation, and the glazing is mostly original. Flank elevations are also similarly ornamented, particularly the South flank.
Views
City Scape View
Industrial View