London Character Theatre Bar Film Location
A basement members' club, originally rehearsal rooms in the 1920s, situated in London's West End. Period features, tons of character and a quirky atmosphere.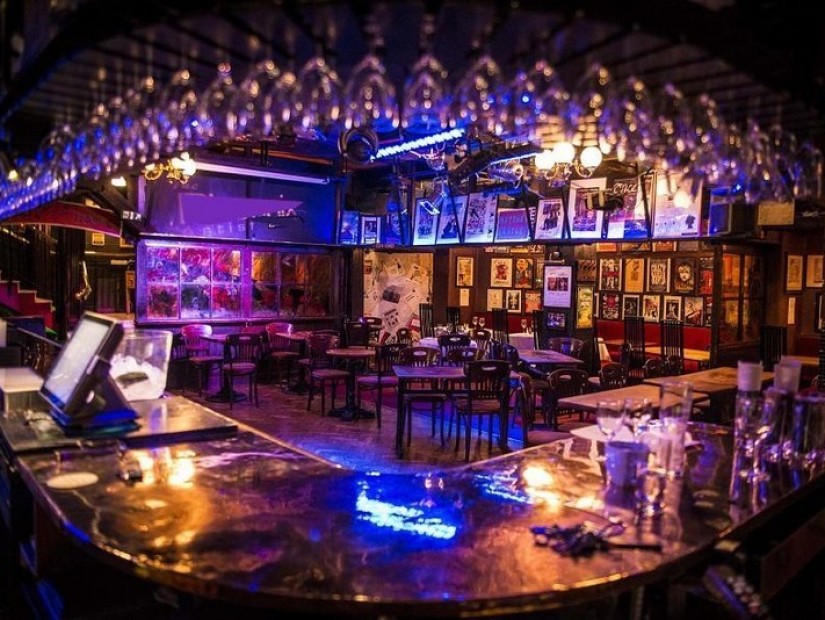 Featured
LON1761
Categories:
Interior
A basement club with original features from the moment you walk through the door.
The space is split into 2 areas, separated by a curtained off doorway. The main bar, once the rehearsal rooms for the theatre above, was used by Noel Coward and Gertrude Lawrence to rehearse the first ever staging of 'Private Lives'. With a capacity of 120, this space includes the features listed below:
- Walls and ceiling full of theatre memorabilia dating from the 1800s to the present day including, props, set illustrations, costume designs, posters and programmes
- Original 1920s parquet floor
- Copper-topped bar
- Painted glass walls from a West End production in the 1950s
- Bar area with mirrored walls behind
- Moveable seating comprising of a mix of red velvet bunkettes and chairs with 2-4 seater tables
- Full professional lighting rig and sound system, including PA system for mics and instruments

The Members' Lounge, originally part of the dressing rooms for the theatre and renowned for being the location of many of Lawrence Olivier's infamous parties, has a capacity of up to 80 and includes the following features:
- 1920s original parquet flooring
- Permanent stage area, measuring approx. 15ft x 6ft
- Full lighting and sound system (independent from the main bar)
- Walls decked in theatrical memorabilia
- 2 booth seats (each sits 4) with painted glass behind
- Original 1980s airline seats

In addition, we also have a large professional kitchen onsite, ground cellar, cold rooms, toilets, and fire escape steps into an alleyway behind the venue.
Facilities
3 Phase Power
Domestic Power
Internet Access
Mains Water
Toilets
Interior Features
Furnished
Period Staircase
Kitchen Facilities
Cutlery and Crockery
Gas Hob
Pots and Pans
Prep Area
Range Cooker
Small Appliances
Utensils
Rooms
Bar
Basement
Cellar
Dance floor
Stage
Walls & Windows
Blacked Out
Exposed Beams
Painted Walls
Skylights
Stained Glass Windows
Exterior
Situated just off one of Central London's busiest roads, our only exterior space consists of a large glass window at street level, and entrance down into the club.
The club is surrounded above and to the sides by large building displays for the theatres around us.
Opening times
Mon-Fri: 09:30-18:30
Sat/Sun: Closed
Out of hours emergency support – 07538 821477
Are you a potential Location Owner?
Find out how we can help you generate extra income from your property.
Call us today on +44 (0)1782 388439 or +44 (0)1782 388090
Complete our enquiry form here
We'd love to hear from you.
We use cookies, which are placed on your computer or other device. By using this site, you agree to such cookies being used. To find out more please
see our cookies policy
.