New England Style Seaview House Film Location
New England style four bedroom house located in Devon. Great open plan first floor entertaining space with kitchen, dining and lounge area and open fire place available to hire for filming and photo shoots.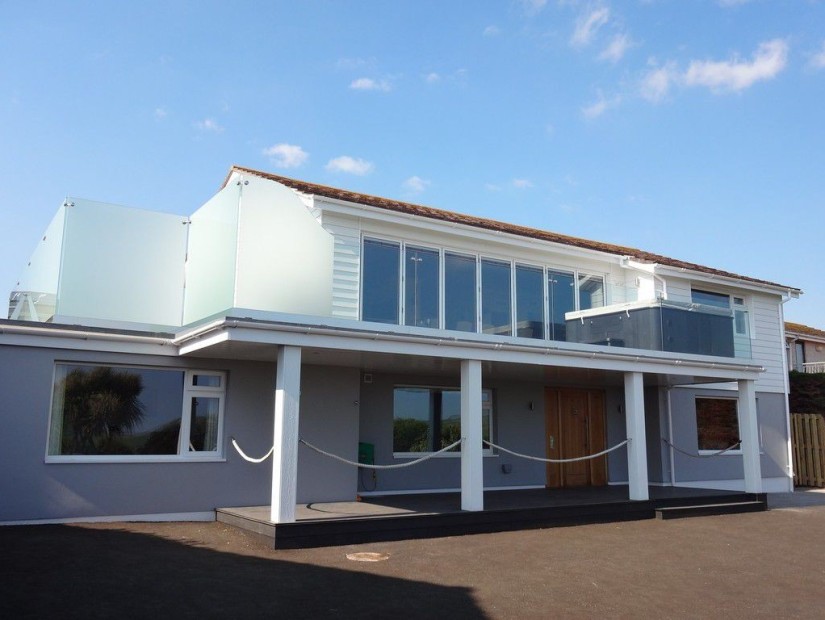 SW1097
Categories:
Interior
The house was built in 1984. We bought it in 2012 and have spent the last 2 years completely refurbishing it and building an extension to create a New England style home. All the living space is on the first floor with the kitchen, dining area and lounge all open plan. We have 7 leaves of bifold door that all fold back onto the terrace to open up the space even more. The whole upstairs is an oak wood floor. The walls are painted in Thimblecase(light grey), the kitchen is an olive green colour with an island and 3 stools and the worktops a brown stone. The dining table has been handmade locally and is a lime oaked top on metal legs made by a local blacksmith. the lounge area comprises of a brown U shaped sofa in front of an open working fire.
On the ground floor there are 4 good sized double rooms, 2 of them ensuite and 2 sharing one bathroom. Everything is new. All the bathrooms have been done in travertine tiles. 2 have showers and one has a bath. The main bedroom is at one end of the house with an ensuite bathroom and large dressing room. The walls are a light green colour, the carpets a similar colour, the dressing room is white and dark wood and the bathroom travertine with a dark wood double vanity. At the other end of the house sits the 3 double bedrooms. One has a chrome bed in and is painted a dark grey and has a partial seaveiw. The other front bedroom is cream colour with enough space for a double bed and sofa and coffee table. The last bedroom is a bit smaller in a light blue done out in a beach style with a bunk bed room for kids off it. We also have a good sized entrance hall, tiled in slate with an oak staircase and railings made out of metal and designed by a local blacksmith. The doorhandles, some lightfittings and the legs of the dining room table are all made by the same blacksmith.
We also have a large utility room on the ground floor which leads out to a back patio housing a seperate building which has a gym comprising of a treadmill, powerplate, bike, multigym, speedball and TRX and an office next door to it.

Bathroom Types
En-suite Bathroom
Jacuzzi
Modern Bathroom
Bedroom Types
Child's Bedroom
Double Bedroom
Dressing Room
Spare Bedroom
Facilities
Domestic Power
Green Room
Internet Access
Mains Water
Toilets
Floors
Carpet
Real Wood Floor
Tiled Floor
Interior Features
Furnished
Modern Fireplace
Modern Staircase
Kitchen Facilities
Cutlery and Crockery
Island
Large Dining Table
Open Plan
Pots and Pans
Small Appliances
Utensils
Kitchen types
Cream & White Units
Kitchen With Island
Rooms
Dining Room
Gym
Living Room
Walls & Windows
Large Windows
Painted Walls
Exterior
At the front of the house there is a veranda leading up to the front door which is decked and has a hammock on it.
The outside of the house has been rendered on the bottom half in a light grey and the top half is white cedral.
On the terrace off the first floor open plan living area there is a sofa, bar and 4 stools and hot tub. Round the other side of the terrace there are sunbeds and a table tennis table. The terrace is a light grey porcelain tile.
The village has a population of 1500. It has a very popular hotel, a pub called the Village Inn and a village shop. All are 5-10 minutes walk from the house. There is also a golf course which we can see from the house which was established in 1892 and a church in the village.
Exterior Features
Back Garden
Balcony
Decking
Front Garden
Patio
Roof Terrace
Views
Countryside View
Sea View
Opening times
Mon-Fri: 09:30-18:30
Sat/Sun: Closed
Out of hours emergency support – 07538 821477
Are you a potential Location Owner?
Find out how we can help you generate extra income from your property.
Call us today on +44 (0)1782 388439 or +44 (0)1782 388090
Complete our enquiry form here
We'd love to hear from you.
We use cookies, which are placed on your computer or other device. By using this site, you agree to such cookies being used. To find out more please
see our cookies policy
.