Period Library Film Location
The Library is housed in an historic building built in the 1860's. It is believed to have been designed by the famous Charles Lanyon. There are many unique ornamental and structural details inside and on the exterior.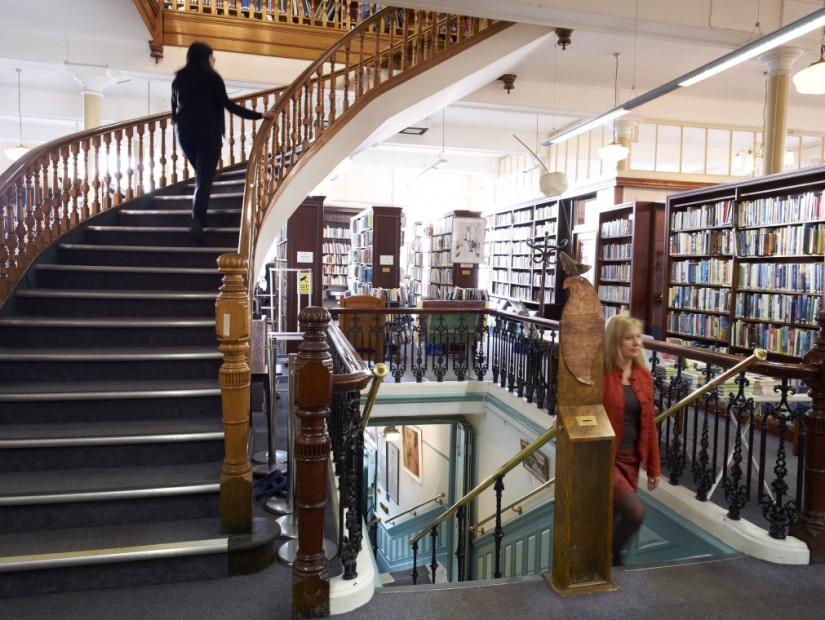 IR1010
Categories:
Interior
Library (since 1788) moved into its current location in Belfast, Northern Ireland, in 1888. The building is a stunning listed 1860s . Purchased by the Library when their original premises needed to be vacated. The building is believed to have been designed by the famous Northern Ireland firm Lanyon, Lynn and Lanyon (who also designed Queen's University and Belfast Castle amongst other beautiful buildings). The entrance is iconic with ornamental and structural details including festoons of linen carved into stone around the grand front door that opens out onto Belfast's town centre Donegall Square. The front of the building is Scotch fire brick with Scrabo stone (popular Northern Ireland sandstone) dressings to the windows and doors. Inside the front entrance is an imposing York stone staircase leading up the main Library.
The old part of the Library comprises 3 floors (there is a modern extension that opened in 2000). There is a curved oak staircase taking visitors from the main reception and general lending area up into the floor above. On the 4th floor is the atmospheric Governors Room which is an intimate meeting room surrounded by grand glass fronted oak bookcases. Tall windows over look the bustle of Donegall Square and directly opposite is the Belfast City Council building.
The 6th floor houses the attic which is full of books and nooks and crannies!
There is also a modern extension which features a six- storey vertical gallery.


Facilities
Domestic Power
Internet Access
Mains Water
Toilets
Interior Features
Furnished
Modern Staircase
Period Fireplace
Period Staircase
Spiral Staircase
Sweeping Staircase
Rooms
Library
Meeting/Board Room
Playroom
Reception
Retail/Pop-Up Space
Store Room
Study
Exterior
- Drop-off and pick-up points around the property
- Parking garages nearby
Views
City Scape View
Industrial View
Opening times
Mon-Fri: 09:30-18:30
Sat/Sun: Closed
Out of hours emergency support – 07538 821477
Are you a potential Location Owner?
Find out how we can help you generate extra income from your property.
Call us today on +44 (0)1782 388439 or +44 (0)1782 388090
Complete our enquiry form here
We'd love to hear from you.
We use cookies, which are placed on your computer or other device. By using this site, you agree to such cookies being used. To find out more please
see our cookies policy
.