Stately Home Film Location
Stately Home Film location combining luxurious traditional styling with faded grandeur and derelict spaces - including: derelict swimming pool, derelict school gym with peeling paint, a courtyard with fountain and extensive group.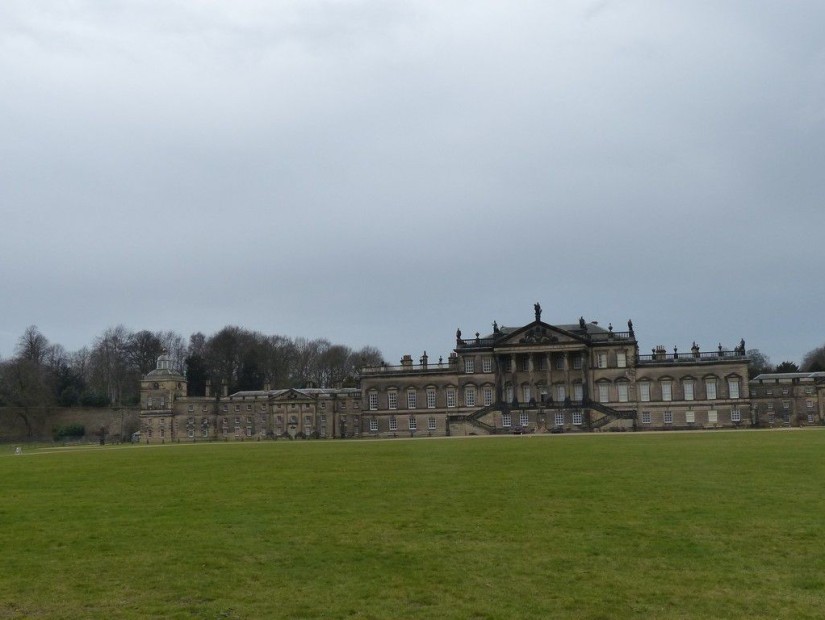 Featured
N1243
Categories:
Interior
Lots of opportunities exist inside this expansive/outbuildings/grounds for filming and photo shoots.
In the main house there is a broad mixture of large rooms with period fireplaces, some with ornate plaster work on the walls and ceilings, and some with period furniture.

The rooms are decorated in a mixture of paint or old wallpaper patterns and could provide the backdrop for faking rooms in houses in other countries. Again, there is a blend of flooring types throughout the building. This ranges from original wood floorboards with large rugs/carpet, to marble, tiled and stone paved flooring.

Connecting the large formal rooms are long corridors (some are very wide with period fireplaces, carpet, furniture etc), and one which has wood panelled walls.
Under the building there is a large pillared cellar. This is easily accessed and has been cleaned up. This is another interesting space with vaulted ceiling.

In the former accommodation wing (quite representative of a hospital wing) there are a large number of rooms in derelict state (which have been used previously as production offices). These are connected with long corridors with lots of doors off them. Some of these corridors have lots of character, with bare plaster and/or peeling paint.

In the Stable Block, no longer home to any horses, there is a large courtyard with fountain in the middle. Some of the buildings are empty, and contain additional rooms which have lots of character. These rooms are slightly smaller than those in the main house, are presented empty (with varying state of distress) but still large enough for filming in, and have been for productions in the past.
In an adjacent building there is a large disused swimming pool. The building is in quite a distressed state, however this could be cleaned up, or used in its present condition. The pool could be cleaned and filled with water if required.

An additional large room (comparable size of a traditional school gymnasium) which has been used in the past, and could be used for filming or set-builds.
Bathroom Types
Cloakroom/WC
Period Bathroom
Facilities
3 Phase Power
Green Room
Internet Access
Mains Water
Floors
Carpet
Marble Floor
Real Wood Floor
Stone Floor
Tiled Floor
Interior Features
Concrete Pillars
Furnished
Period Fireplace
Spiral Staircase
Sweeping Staircase
Rooms
Ballroom
Basement
Cellar
Dining Room
Drawing Room
Hallway
Indoor Swimming Pool
Library
Office
Walls & Windows
Bare Plaster
Bay Window
Large Windows
Painted Walls
Paneled Walls
Wallpapered Walls
Exterior
The properties on the site are accessed from a long, single file private road (not suitable for high speed filming). There are open fields to either side of the road.

There is lots of parking available on site for support vehicles of all sizes.
Exterior Features
Back Garden
Fountain
Outbuildings
Patio
Opening times
Mon-Fri: 09:30-18:30
Sat/Sun: Closed
Out of hours emergency support – 07538 821477
Are you a potential Location Owner?
Find out how we can help you generate extra income from your property.
Call us today on +44 (0)1782 388439 or +44 (0)1782 388090
Complete our enquiry form here
We'd love to hear from you.
We use cookies, which are placed on your computer or other device. By using this site, you agree to such cookies being used. To find out more please
see our cookies policy
.