Tudor Family Home Film Location With 2 Kitchens
A restored Tudor family home in the heart of a Devon market town. Some paneled rooms, courtyard garden and gardens beyond.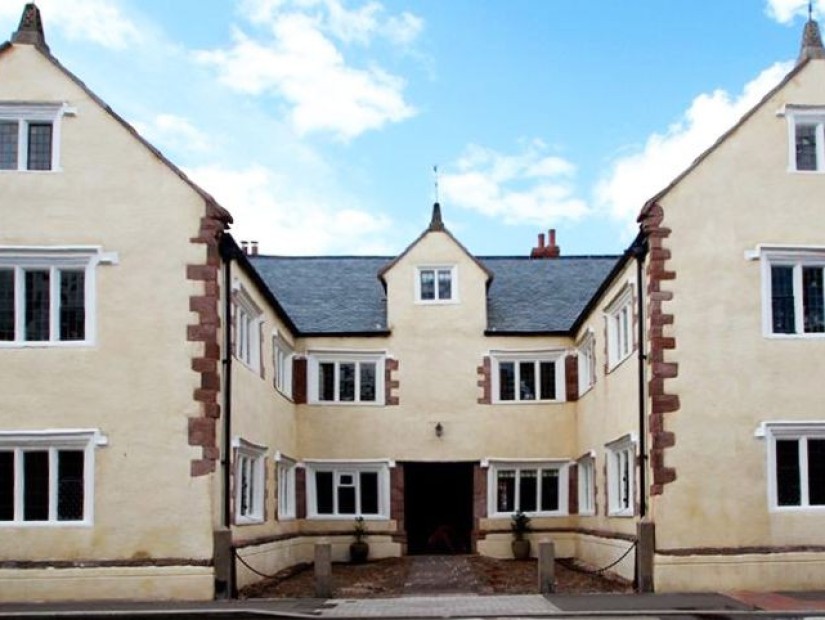 SW2036
Categories:
Interior
This restored Tudor home features, paneled walls in two ground floor rooms, each with a large stone fireplace, one of which carries a coat of arms and details above. Upstairs, the rooms are restored sympathetically to the period although not all of the furniture is contemporary.

The kitchen and bathrooms are all modern although the family bathroom hosts a stone fireplace and centrally located bath.
Bathroom Types
Cloakroom/WC
En-suite Bathroom
Modern Bathroom
Shower Room
Bedroom Types
Double Bedroom
Four Poster Bedroom
Single Bedroom
Twin Bedroom
Facilities
Domestic Power
Fire Hydrant (close by)
Internet Access
Mains Water
Shoot and Stay
Toilets
Floors
Real Wood Floor
Stone Floor
Interior Features
Period Fireplace
Period Staircase
Spiral Staircase
Kitchen Facilities
Cutlery and Crockery
Island
Large Dining Table
Pots and Pans
Prep Area
Range Cooker
Small Appliances
Utensils
Kitchen types
Cream & White Units
Retro Kitchen
Rooms
Dining Room
Drawing Room
Games Room
Hallway
Living Room
Lounge
Meeting/Board Room
Office
Retail/Pop-Up Space
Walls & Windows
Exposed Beams
Large Windows
Painted Walls
Paneled Walls
Skylights
Stone Walls
Exterior
Built in about 1564 as a family home for a relatively well-to-do family. To evidence this its was set back from the main street whereas the rest of the houses were immediately on the street. The house all but burnt down in 1602 and was rebuilt in 1605. It remained largely unaltered on the exterior from that time but at some point the rendering was removed from the external stonework. The house was completely renovated from 2012 onwards and re-opened in 20014 with a traditional lime rendering applied.
Exterior Features
Back Garden
Courtyard
Garden Shed
Outbuildings
Patio
Walled Garden
Parking
Off Street Parking
On Street Parking
Parking Nearby
Secure Parking
Opening times
Mon-Fri: 09:30-18:30
Sat/Sun: Closed
Out of hours emergency support – 07538 821477
Are you a potential Location Owner?
Find out how we can help you generate extra income from your property.
Call us today on +44 (0)1782 388439 or +44 (0)1782 388090
Complete our enquiry form here
We'd love to hear from you.
We use cookies, which are placed on your computer or other device. By using this site, you agree to such cookies being used. To find out more please
see our cookies policy
.