Tudor Stately Home Film Location
A restored 10 bedroom private Stately Home set in 25 Acres of period gardens available for filming and photo shoots.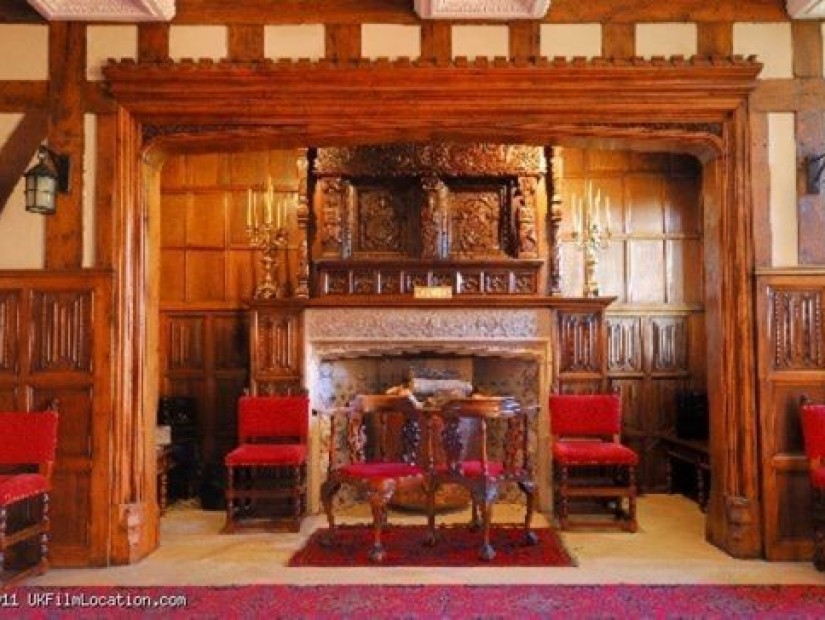 Categories:
Interior
A restored 10 Bedroom Private Stately Home set in 25 Acres of Period gardens with topiary, sunken gardens, walled vineyard, small lakes and other land and small woods...The house is set up for Weddings so the grounds are kept well stocked and well managed all year round.
 
Notable Rooms - SummaryThe house itself has a couple of Large period bedrooms with Four Poster Beds and several others in different styles (None Modern) a Queen Anne Stair case, Ball room to hold 80 and a small old empty Library which we use as a Breakfast room.We have a fully panelled sitting room and a very generous sized panelled entrance hall with a majestic Fireplace.Lounge - 5m x 9m x 3m* Wooden Floor* Rugs* Panelled Walls* Old Fashioned Style* Stone Windows* Large FireplaceDining Room - 6m x 11m x 3m* Wooden Floor* Cream Walls* Empty of Furniture* Doors to Exterior* Beamed* FireplaceKitchen - 6m x 4m x 3m* Cream TilesLibrary - 5m x 6m x 3m* Wooden Floor* Cream Walls* Ornate, very large carved fireplace* Grand PianoEntrance Hall - 9m x 6m x 12m* Wooden Flooring* Simple Furnishing* Ornate Plasterwork* Majestic Inglenook Fireplace10 Bedrooms - All approx. 6m x 8m x 3m* Carpet* Half Panelled* Cream Walls* Stone Windows* 4-Poster Beds in 2 of the rooms* Beamed CeilingsThe building is set in 25 acres of land, so parking is not a problem.This is a beautiful house with plenty of presence available throughout the year.
Bathroom Types
En-suite Bathroom
Family Bathroom
Bedroom Types
Double Bedroom
Four Poster Bedroom
Facilities
Domestic Power
Green Room
Internet Access
Mains Water
Toilets
Interior Features
Furnished
Period Fireplace
Period Staircase
Rooms
Ballroom
Dining Room
Drawing Room
Hallway
Library
Office
Reception
Walls & Windows
Large Windows
Painted Walls
Paneled Walls
Stone Walls
Exterior
Garden Features
* Italian Sunken Gardens* Walled Vineyards* Wild Gardens* Small Lakes
Parking
Exterior Features
Back Garden
Formal Gardens
Front Garden
Lake/Pond