Architecturally Interesting Building For Filming
Remarkable modern architecture, stunning waterfront location, spectacular views. Impressive selection of historic objects and vehicles in large open plan gallery spaces.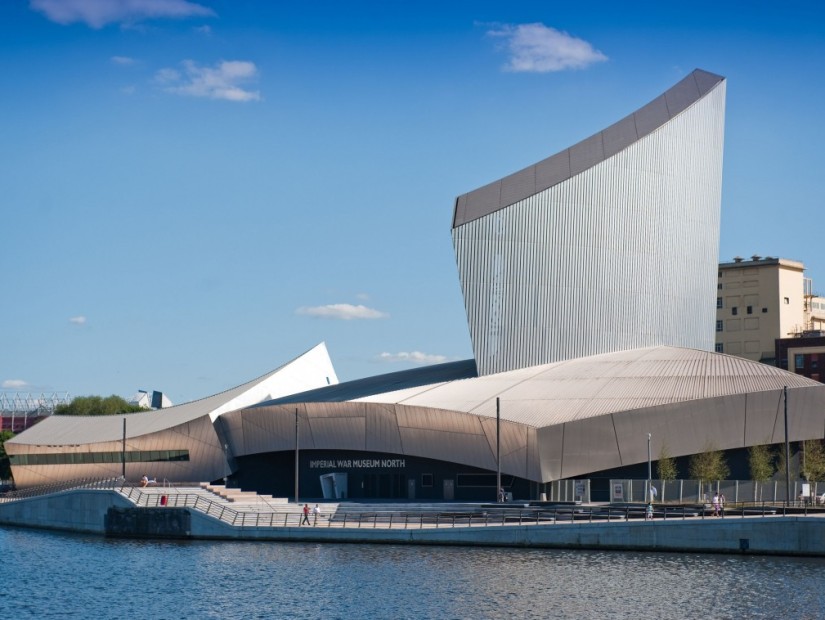 Categories:
Interior
The building's design is fragmented into three 'shard' like structures. The impressive open plan exhibition spaces features six towering enclosed spaces displaying an array of materials and objects relating to war and conflict. Exclusive to the main exhibition space is the potential to create your own immersive cinematic experience that presents film, imagery and sound using the high interior walls. These bespoke digital wallpapers are digitally mastered and developed around any theme you choose and provide a spectacular filming backdrop.

At the front of this modern and stylish building is the café, a light and airy space with a fantastic view of The Quays waterfront. The décor inside the café is simple, with pale grey walls, dark tiled flooring and large pillars throughout this large open space.

The Air Shard is perhaps one of the most striking aspects of the building as this tower juts high into the Manchester skyline soaring 55m above ground. Within this tower is a viewing platform providing incredible panoramic views over The Quays. The unique architectural design of the museum makes this a fantastic choice for any filming opportunities.


Facilities
3 Phase Power
Domestic Power
Green Room
Internet Access
Toilets
Floors
Concrete Floor
Painted Floors
Interior Features
Concrete Pillars
Industrial Backdrops
Modern Staircase
Steel Pillars
Walls & Windows
Industrial Windows
Painted Walls
Exterior
This iconic building located in The Quays fantastic waterfront destination in Manchester. The aluminium-clad building with jutting angles has become an iconic part of the Manchester skyline since it was built in 2002 and makes for a unique venue for filming and photography. The exterior of this modern, industrial style building is lined with striking metallic paneling, providing a unique opportunity for creative filming and photography.
Views
City Scape View
Industrial View