College Campus Filming Location
The campus consists of a range of 18th &19thC houses, an art deco listed building, 1960s dining hall and modern classroom blocks. Facilities include; swimming pool, athletics track, observatory, theatres, lakes and a Chapel.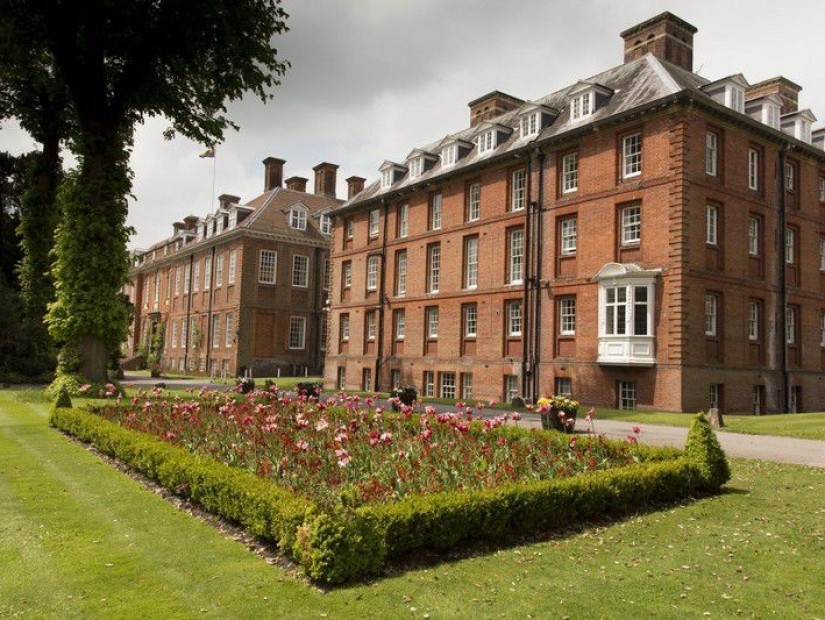 Categories:
Interior
This College dates back to 1843 and is one of the country's leading public schools. We have a wealth of architectural styles on campus ranging from 18th and 19th Century houses, an art deco listed building, 1960s dining hall and modern classroom blocks.
The facilities include; a 25 metre, 8 lane competition indoor swimming pool, Observatory, three theatres, two lakes, a beautifully restored Cricket Pavilion, astroturf pitches and international standard athletics track.
Two buildings deserve a special mention; the Memorial Hall and the Chapel. The Memorial Hall was opened in 1925 and is the principal memorial in the College to the 749 men who gave their lives in the First World War. Their names are inscribed on the wall around the inside of the back of the hall. The hall itself comprises a semi-circular auditorium of stepped seats with an ambulatory at the rear, with a stage that can be extended as required.
The current Chapel, St Michael and All Angels, was consecrated in 1886. There are three things of particular note; one is the window designed by Burne-Jones and made under the direction of  William Morris, another is Eric Gill's sculpture of "The Virgin and Child" above the outside of the West Door and finally a series of 12 large murals by John Roddam Spencer Stanhope. These depict Biblical scenes involving angels, six on the north side from the Old Testament and a like number on the south from the New.
Not only has the Mound stimulated some of the region's most enduring threads of mythology, it has also been recognised as a feature of considerable historical significance. It was the motte on which the keep of Marlborough Castle was built fifty years after the Norman Conquest. Subsequently, it became the centrepiece of a major seventeenth century garden. The latest research, however, has extended its history back by three millennia. Recent coring of the Mound at theCollege has produced four samples of charcoal, allowing radiocarbon dating for the first time. The samples showed that it was built in the years around 2400 BC. This is the first positive evidence proving the theory that the castle motte is in fact a re-used prehistoric structure of the highest national standing. A grotto was added in the 18th Century.
In all,the College offers some fantastic and unique locations for film and photography shoots. We hope you enjoy looking at our photographs which hopefully will give you some idea of what we can provide.
Facilities
3 Phase Power
Domestic Power
Green Room
Internet Access
Mains Water
Shoot and Stay
Toilets
Floors
Carpet
Concrete Floor
Laminate Wood Floor
Linoleum
Real Wood Floor
Stone Floor
Interior Features
Concrete Pillars
Furnished
Modern Staircase
Period Fireplace
Period Staircase
Spiral Staircase
Sweeping Staircase
Kitchen Facilities
Breakfast Bar
Cutlery and Crockery
Eat In
Gas Hob
Island
Kitchen Diner
Large Dining Table
Open Plan
Pots and Pans
Prep Area
Range Cooker
Small Appliances
Utensils
Kitchen types
Cream & White Units
Kitchen With Island
Rooms
Ballroom
Bar
Basement
Boardroom
Cellar
Changing Room
Dance floor
Dining Room
Drawing Room
Games Room
Green Room
Hair/Make-up Room
Hallway
Home Office
Library
Living Room
Loft
Lounge
Meeting/Board Room
Music Studio
Office
Porch
Reception
Retail/Pop-Up Space
Stage
Store Room
Study
Walls & Windows
Bay Window
Blacked Out
Exposed Beams
Exposed Brick Walls
Industrial Windows
Large Windows
Painted Walls
Paneled Walls
Stained Glass Windows
Stone Walls
Wallpapered Walls
Exterior
The facilities include; a 25 metre, 8 lane competition indoor swimming pool, Observatory, three theatres, two lakes, a beautifully restored Cricket Pavilion, astroturf pitches and international standard athletics track.
 
Exterior Features
Back Garden
Courtyard
Formal Gardens
Fountain
Front Garden
Garden Shed
Greenhouse
Lake/Pond
Outbuildings
Patio
Tennis Court
Parking
Off Street Parking
Secure Parking
Views
Countryside View
Lake View