East Sussex: Timber-Framed Bungalow Nestled In Woodland Available For Filming
Rustic woodland cottage surrounded by trees, meadow and ramshackle outbuildings (woodsheds etc).for filming and photo shoots.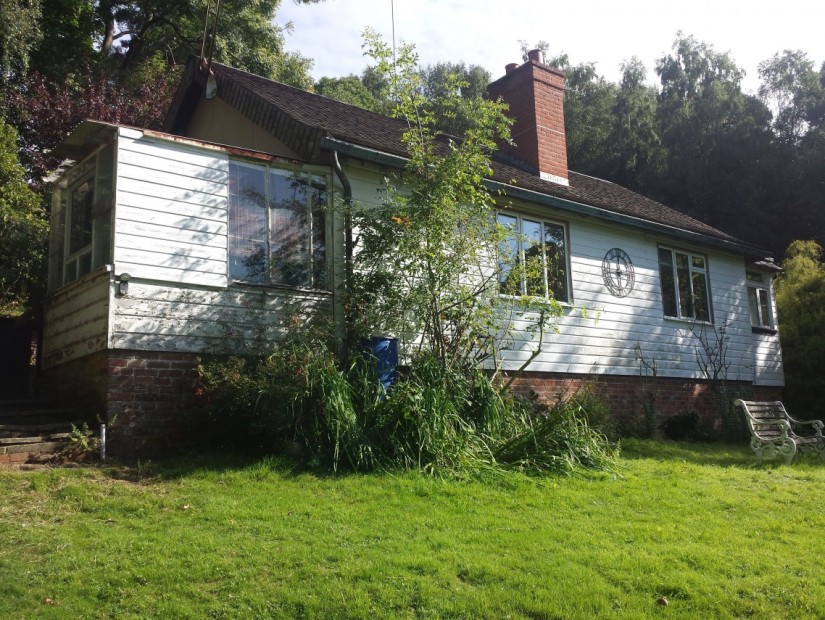 SE2451
Categories:
Interior
- This is a 1934 timber-framed, detached bungalow, with cedar shingle roof and white-painted shiplap walls. It is part of an old estate that was broken up in 1934.
- Inside the house is a mixed kitchen with a 1950s dairy look on the tiled chimney breast, an oak battened white ceiling, with a focal 1950s Rayburn stove, but modern white goods and a 1980s era partly-fitted kitchen, with a mix of yellow-painted walls and bare plasterboard. It paints a picture of a house through decades since the 50s.
- The lobby has 2 double-height silver appliances.
- The 2 bedrooms are quite small and full of furniture.
- The sitting room is small, fairly well decorated with oak trim and pleasant traditional style furniture.
Being within easy reach of London, this could be the perfect film location house for those wanting to shoot exteriors on location and interiors in a studio.
Bedroom Types
Single Bedroom
Spare Bedroom
Facilities
Domestic Power
Internet Access
Mains Water
Exterior
This woodland bungalow is perched on a hill, surrounded by trees, including 2 very large Wellingtonias.
- There is a pleasantly dilapidated entrance with 12 foot-high pillars, wrought iron gates and an 200+ year old brick wall of 6 to 12 feet high along its 50 yard road frontage, which adjoins a railway bridge on a double bend.
- The garden is approx 1-acre meadow-like grass surrounded by light woodland.
- The property is bounded to the west by an electrified railway line, to the south by the road , to the east by a 2-acre wood and to the north (up the hill) by a field.
- Around the house are flowering shrubs, including large rhododendrons and ash, willow and poplar trees.
- The garden is naturally broken into several distinct areas and there are dirt tracks through the light woodland.
- There is a hotch-potch of dilapidated and semi-derelict wooden sheds garages and caravans, some 10-feet high gabion walls, a ground array of solar PV panels and pieces of industrial/agricultural engineering littered around (cambridge rollers, cement mixers,mill wheels and cogs.
- The house has a flat-roofed carbuncle of an extension to the east end and a ghastly, tatty glazed lobby to the west.

Exterior Features
Back Garden
Front Garden
Garden Shed
Outbuildings
Paddock
Walled Garden
Parking
Driveway
Off Street Parking
Opening times
Mon-Fri: 09:30-18:30
Sat/Sun: Closed
Out of hours emergency support – 07538 821477
Are you a potential Location Owner?
Find out how we can help you generate extra income from your property.
Call us today on +44 (0)1782 388439 or +44 (0)1782 388090
Complete our enquiry form here
We'd love to hear from you.
We use cookies, which are placed on your computer or other device. By using this site, you agree to such cookies being used. To find out more please
see our cookies policy
.