Hairdressing Salon Film Location
Modern hairdressing salon in Staffordshire available as a film location.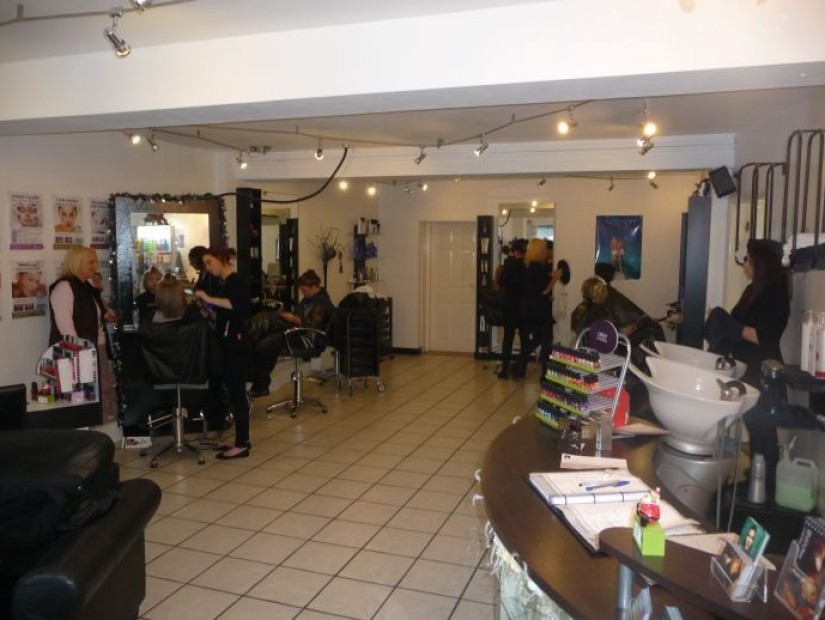 Categories:
Interior
About the SalonThe Salon is of a modern appearance - decorated throughout with white walls and ceilings, light coloured flooring, and black seating/shelving.The shop comprises of 3 main areas:1. Main SalonThis space is approx. 36ft x 15ft and divided by furniture, not walls. This main space has a beige tiled floor.There is a comfortable seating area at the front of the shop with black leather sofa's/chairs, and the remaining 70% of the space is allocated to washing or cutting areas.The cutting areas can each accommodate 2 hairdressers, and have mirrors, adjustable seats etc.We also have a Wet Area for washing customer's hair (comprising of 2 sinks on an outside wall in the middle of the shop), and our Customer Service desk - on the same wall, by the front door.2. Beauty AreaThe beauty area is currently a single room approximately 18ft x 15ft, and possesses the same styling as the main salon area with the exception of the floor, which is laminated wood.This area is due to be partitioned in the coming months, and will make for excellent dressing facilities for the actors.3. Kitchen/Eating AreaWhilst smaller than the other rooms, there is a table in the kitchen and is suitable for coffee/tea breaks etc.Previous Film ProjectsWe haven't had any films made at our Salon before so this is a fresh new location for you to use.
Facilities
Domestic Power
Green Room
Mains Water
Toilets