Northern Ireland: Art Gallery For Filming And Events
Art Gallery in Northern Ireland is a contemporary art gallery, which occupies three floors of a modernised Victorian terrace.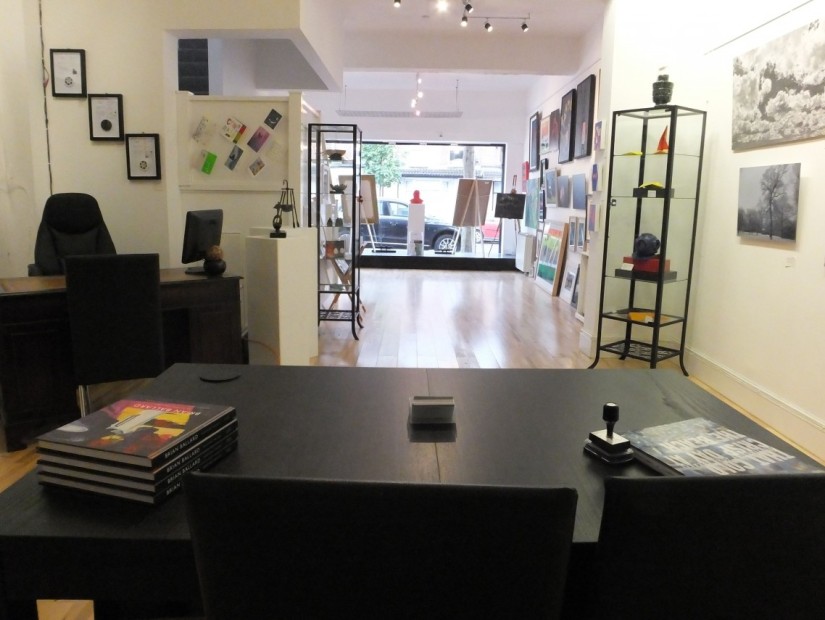 NI2424
Categories:
Interior
The Gallery opened in 2016, so it is fully refurbished, so it is a chic , contemporary, clean and modern gallery space. It would not look out of place in any art capital in the world, such as London, Paris, New York etc. so it could be used as a "designer" space representing any country that the director wished to set the scene in.
The layout is:

Ground Floor Gallery: 4.70m x 12.30m = 57m2
Upstairs Exhibition Space: 4.70m x 4.70m = 22m2
Top Floor Office: 4.70m x 4.70m = 22m2

It is located on a suburban tree lined street, containing a mixture of shops, businesses and private homes. There is on street parking available close to the gallery.

The gallery has been recently refurbished with wooden floors, carpets, plaster on walls etc.

The artworks hanging in the gallery are all by artists who regularly work with the owners, so there will be no difficulties with any permissions for use of artworks.in films or TV productions. The artworks may be changed by the production if required.

The space is flexible, and it can be used as a gallery or as any other indoor location as required.
Facilities
Domestic Power
Internet Access
Mains Water
Toilets
Rooms
Office
Retail/Pop-Up Space
Exterior
The Gallery is in a renovated three storey Victorian terrace property. The gallery is on tree lined avenue, consisting of private homes and businesses, all of which were originally built in the late 19th century, but have been modernised significantly. It is an "up and coming area" with boutiques and model agencies now appearing.
Opening times
Mon-Fri: 09:30-18:30
Sat/Sun: Closed
Out of hours emergency support – 07538 821477
Are you a potential Location Owner?
Find out how we can help you generate extra income from your property.
Call us today on +44 (0)1782 388439 or +44 (0)1782 388090
Complete our enquiry form here
We'd love to hear from you.
We use cookies, which are placed on your computer or other device. By using this site, you agree to such cookies being used. To find out more please
see our cookies policy
.