South East London: High Tech Three Storey House For Filming
High-tech house built into the fabric of a 3 story building, finished to high specifications and incorporating audio and video distribution, smart and mood lightning, electric ignition gas fire, heat recovery, climate control, automated bath and showering systems and more.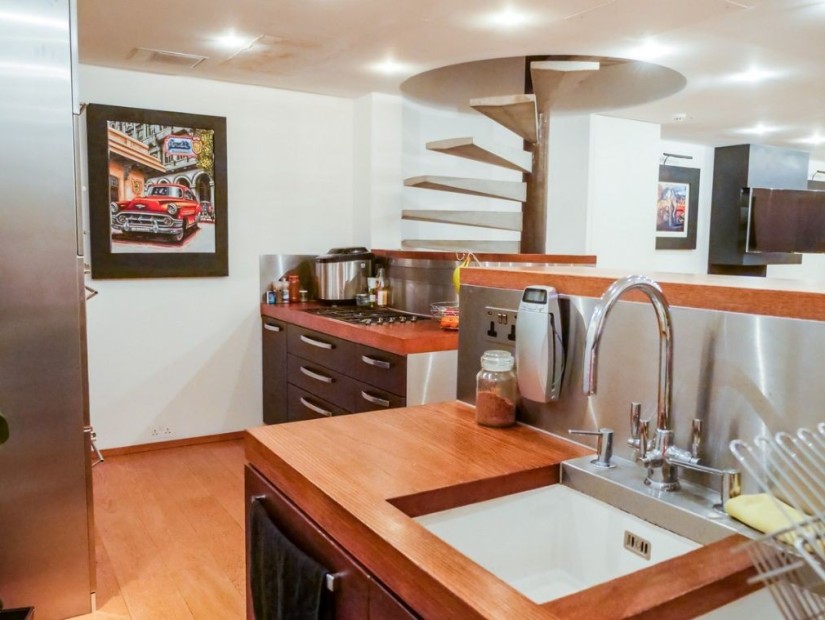 Categories:
Interior
The open plan living floor conveniently separates the two sleeping quarters

The ground floor has an office, shower-bathroom and a bedroom. The office has a large desk, printer, sockets, wired and wireless Internet, etc. and can double into a bedroom with a comfortable sofa. The wet shower-bathroom is with stone walls and glass ceiling and two doors allowing private access from the bedroom or from the hallway. The bedroom has a wall wide cupboard with parking-in doors where the middle section is a desk with a large TV/Monitor. This bedroom has a stunning sky with the constellations and the Milky Way correctly aligned with the Earth's poles

The living floor also hosts the Kitchen, enjoying the wide screen with associated equipment. The sound system is an overkill for the place and caution is required as loud music in the later hours can keep awake neighbours afar.

The top floor has the master bedroom and large en-suite bathroom and a small balcony. The master bedroom has a wall wide cupboard with sliding doors. The bathroom is equipped with automated bath filling system and an opulent shower. The bath is larger than normal (.7m x 1.7m) and can support 2 smallish people.
The small balcony is perfect for smoking if unavoidable.


Bathroom Types
Modern Bathroom
Shower Room
Walk in Shower
Bedroom Types
Child's Bedroom
Double Bedroom
Spare Bedroom
Facilities
Domestic Power
Internet Access
Mains Water
Interior Features
Furnished
Modern Staircase
Spiral Staircase
Kitchen types
Coloured Units
Kitchen With Island
Walls & Windows
Large Windows
Painted Walls