Spanish Finca Filming Location
Ref. No.: SP1018
Location: Spain
Within the M25: No
Superb newly built country house on 30.000 m² plot with stylish design and beautifully landscaped terraces with panoramic views over Mallorca.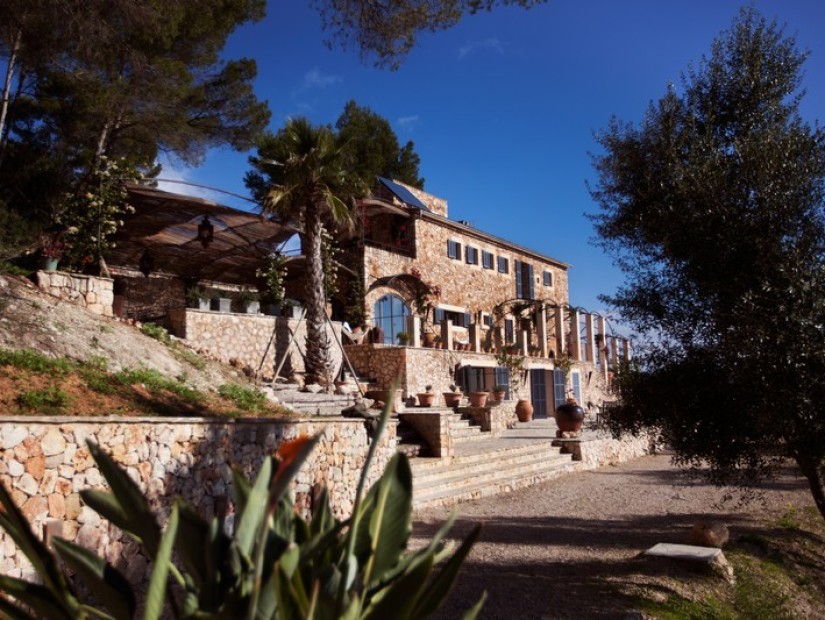 Featured
SP1018
Categories:
Interior
Distribution main house
The interior contains contemporary design with oriental influences and a beautiful concrete floor is all over the house.The bright and spacious lounge has a stylish sitting area with sat/TV, i-Pod music station and stunning views over the countryside. Huge glass doors open towards the patio with the stylish butterfly chairs and special Balinese umbrellas.Further down the living area is the spacious kitchen with oven, dishwasher, fridge/freezer with wine cooler and Balinese lounge sofa at the glass doors onto the covered terrace with a stylish dining area.There is a separate laundry room with washer and dryer.
Upstairs is the master bedroom with a double king-size bed, a spacious bathroom en-suite with bath and shower and patio doors to a private terrace with stunning views over the valley. Two other bedrooms with double beds have a bathroom en-suite with shower and a French balcony. There is also a double bedroom without its own bathroom. On the top floor is the fifth bedroom with double bed, bathroom en-suite with shower and a French balcony.
Distribution guest houses
Under the main house are the guest quarters that you reach from inside and outside. There are 2 double bedrooms with their own bathrooms with shower and glass doors to the terrace.
Facilities
Domestic Power
Internet Access
Shoot and Stay
Toilets
Interior Features
Furnished
Modern Staircase
Rooms
Changing Room
Hair/Make-up Room
Living Room
Walls & Windows
Bare Plaster
Exposed Beams
Exterior
The beautifully landscaped terraces stretch over three levels with outdoor kitchen and several dining/sitting areas, ideal for alfresco dining or just lounging. Around the infinity pool of 20 x 4 with sitting area in the water is a spacious sun terrace with stylish sun beds from where you can enjoy the panoramic views over the island Mallorca in peace and privacy. There is also a tropical poolbar with fridge and music-equipment.
Exterior Features
Back Garden
Outdoor Pool
Patio
Roof Terrace
Opening times
Mon-Fri: 09:30-18:30
Sat/Sun: Closed
Out of hours emergency support – 07538 821477
Are you a potential Location Owner?
Find out how we can help you generate extra income from your property.
Call us today on +44 (0)1782 388439 or +44 (0)1782 388090
Complete our enquiry form here
We'd love to hear from you.
We use cookies, which are placed on your computer or other device. By using this site, you agree to such cookies being used. To find out more please
see our cookies policy
.