Trellick Tower Apartment Film Location
Two bed 60's high rise apartment in Trellick Tower. The apartment has recently been freshly decorated with Farrow & Ball paint in bold colours.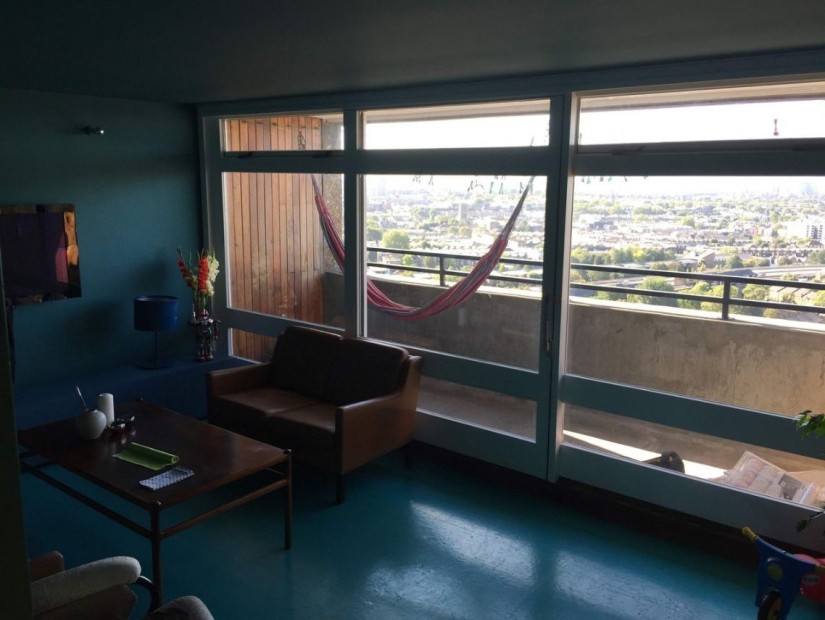 LON0958
Categories:
Interior
High rise apartment available for filming or photo shoots on an upper floor of Trellick Tower, LondonTrellick Tower is a perfect example of a 1960's brutalistic Tower Block. Designed by Erno Goldfinger (of James Bond fame) the building has been given grade 2 listed status to protect its place on London's landscape.The Tower Block resides in Chelsea Kensington Borough and is privately managed.

The apartment is on the end of the building and has incredible 3 dimensional views over London:- Swiss cottage, The wheel and Notting Hill area, and because of all the glass around the corner of the Tower, the flat is flooded with natural light.

Living Room* 12 by 20 with white ceiling and coloured painted walls* old looking Danish furniture and a few vases - easy to change for your style.

Bedroom - 12' by 16
'* painted in a colour
* a double bed
* two vintage chairs

There is not much furniture or possessions in the flat, so it's something of a blank canvas, and very easy for film makers to create their own ambience.

Previous Film Projects
1; Living room, bedroom and balcony were used for Tulisa "Sight of You" video
2. The landing was used for storage and lighting when Rude Boy Food was filmed in the kitchen.3. The balcony was used for the program Behind Closed Doors where interviews were filmed.
4. The apartment has also been used for time-lapse photography, and Paddington Bear film (where Paddington knocks on the door of a high rise apartment)
Bathroom Types
Cloakroom/WC
Family Bathroom
Facilities
Domestic Power
Green Room
Mains Water
Toilets
Walls & Windows
Large Windows
Painted Walls
Exterior
Balcony on the 22nd floor with great views all over London.
Opening times
Mon-Fri: 09:30-18:30
Sat/Sun: Closed
Out of hours emergency support – 07538 821477
Are you a potential Location Owner?
Find out how we can help you generate extra income from your property.
Call us today on +44 (0)1782 388439 or +44 (0)1782 388090
Complete our enquiry form here
We'd love to hear from you.
We use cookies, which are placed on your computer or other device. By using this site, you agree to such cookies being used. To find out more please
see our cookies policy
.